The boys and I went to Rainbow Springs for a weekend getaway Friday through Sunday. We kayaked the Rainbow River a few weeks ago, but this was our first visit to the campground and the state park trails.
Friday morning I did most of the packing and picked the kids up from school around lunch time. They packed their clothes and helped put the kayaks on top of the car. We had a little over 2 hours of driving ahead of us, and our goal was to arrive in time to pitch the tent before sunset. We made it with plenty of time to spare, which was great because this was a brand new tent and whattaya know – the directions that came with it were for the 4-person tent but ours is the 6-person model (completely different shape). After much frustration we finally decided to just look at the photo on the box and do whatever we could to get the tent into the same shape. We figured it out pretty quickly; here's a photo us standing proudly in front of our new mack-daddy "Slumberjack" tent.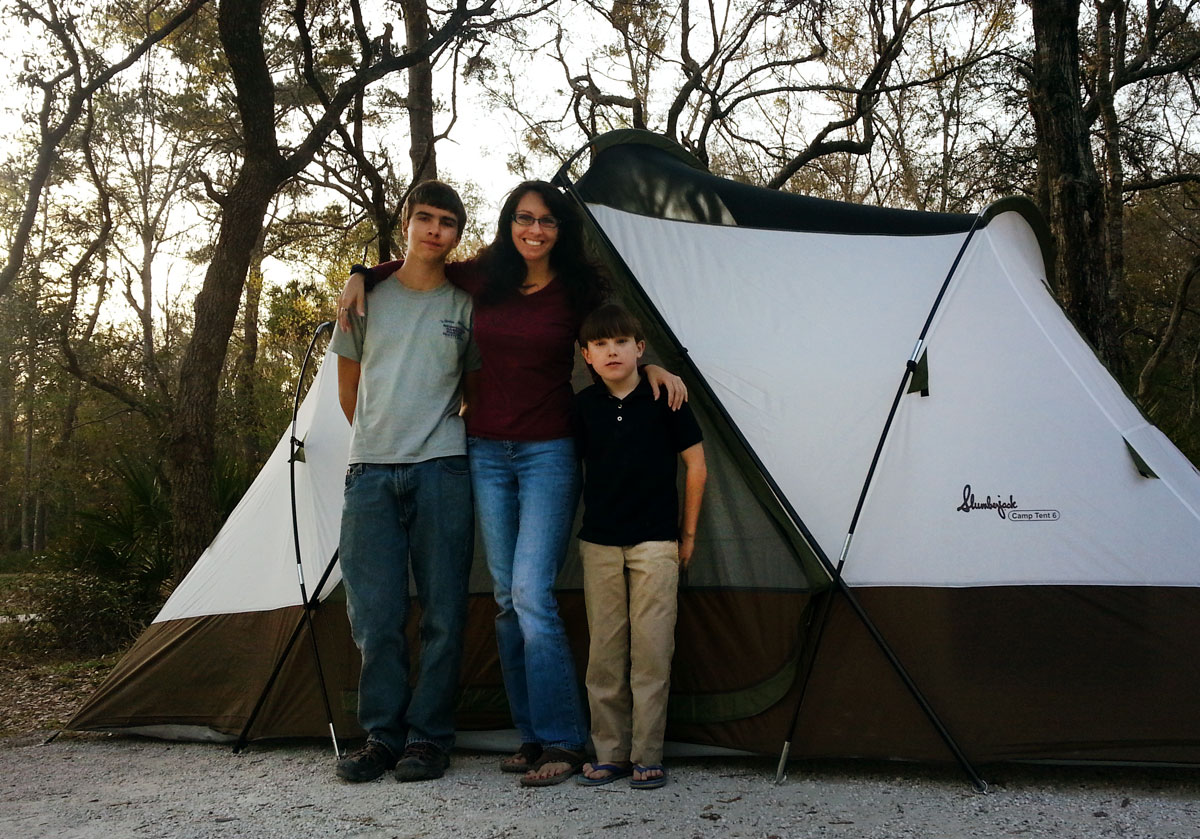 Once the tent was pitched, we loaded it up with our outrageously poofy inflatable beds (don't knock it 'til ya try it).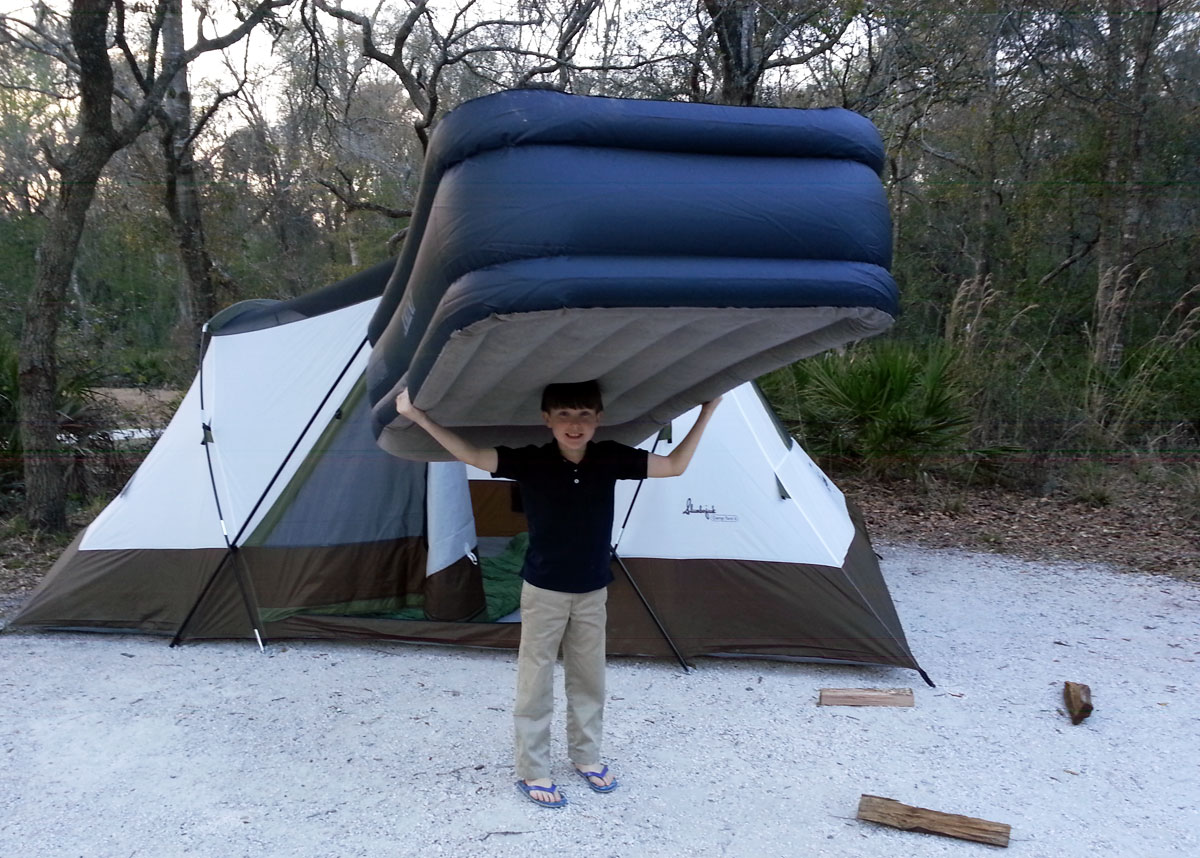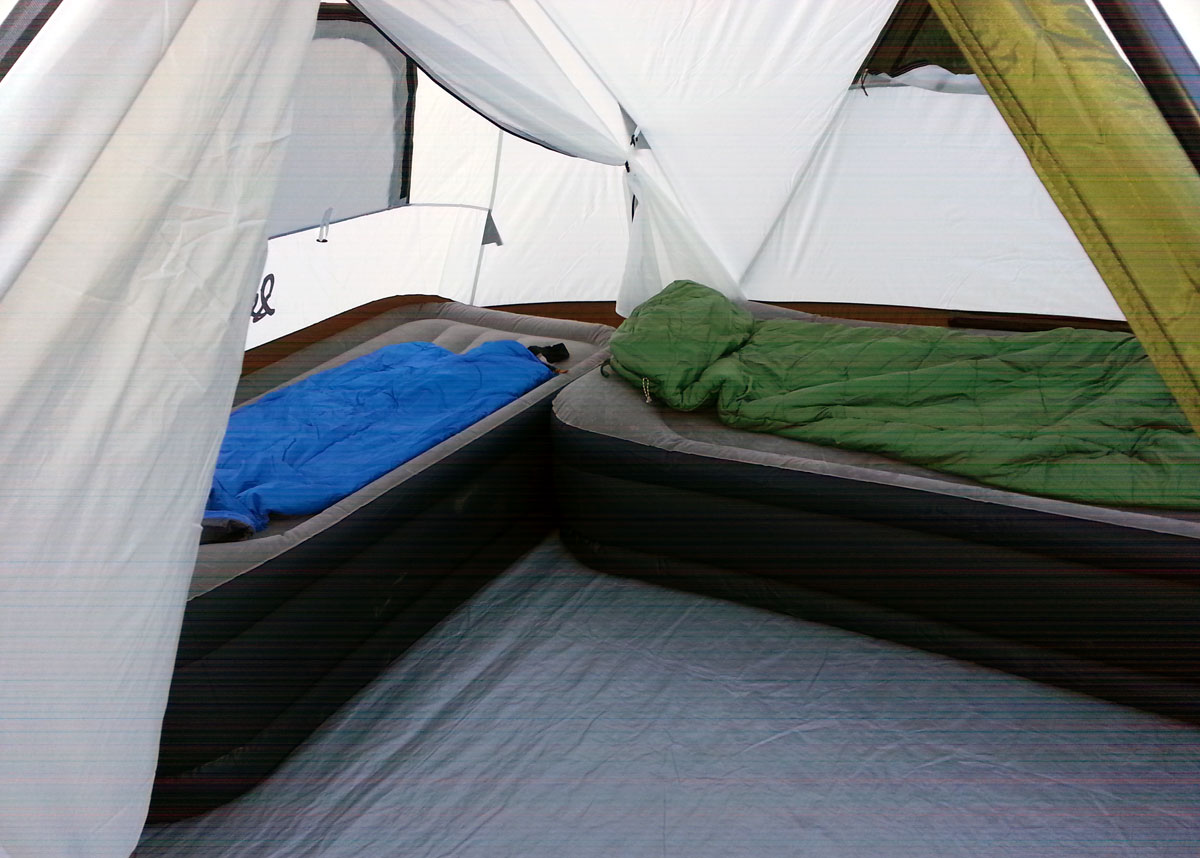 First order of business: DINNER! We grilled burgers and roasted hot dogs while discussing our agenda for the upcoming days on the Rainbow River. We ended the meal with, of course, the obligatory s'mores (Jacob loves them, I can eat maybe one per month, Logan doesn't like them at all).
Once the sun started to set the temperature dropped dramatically. Lucky for the kids, I was prepared for the worst. Not only did I bring sleeping bags, but I also brought 3 fuzzy blankets, and 2 space heaters. Yes, space heaters. You may call it wimpy but this was actually great planning because although the weather was forecasted to be in the upper 40's or low 50's, it actually got down to THIRTY-NINE DEGREES Friday night!!!! Can you imagine?!?!! It was cooooooooold outside!!! I know this because I woke up around 2am to make a run to the restroom. It was more like a sprint, and I almost died of hypothermia on the way back. Needless to say, Saturday night I made sure to use the restroom before settling down for bed. 😉
Saturday morning we woke up bright and early to start our fun day at the river.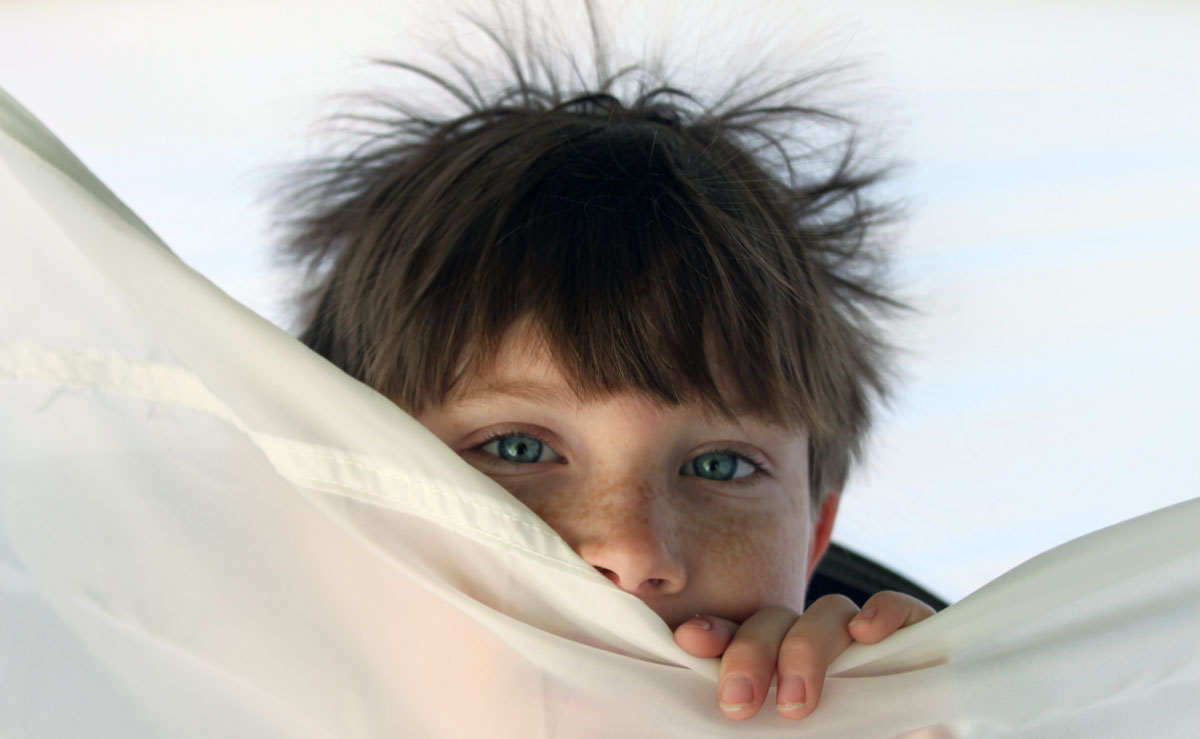 The birds were chirping like crazy as soon as the sun came up! Here's a short audio clip of the sound, but I assure you it was even more impressive in person!
First order of business: fishing from the dock.
The boys wanted to fish very badly. I of course have zero interest in fishing, and have no idea how to even do it really. Logan told me we need live bait, so we drove to a bait and tackle shop to buy these disgusting things: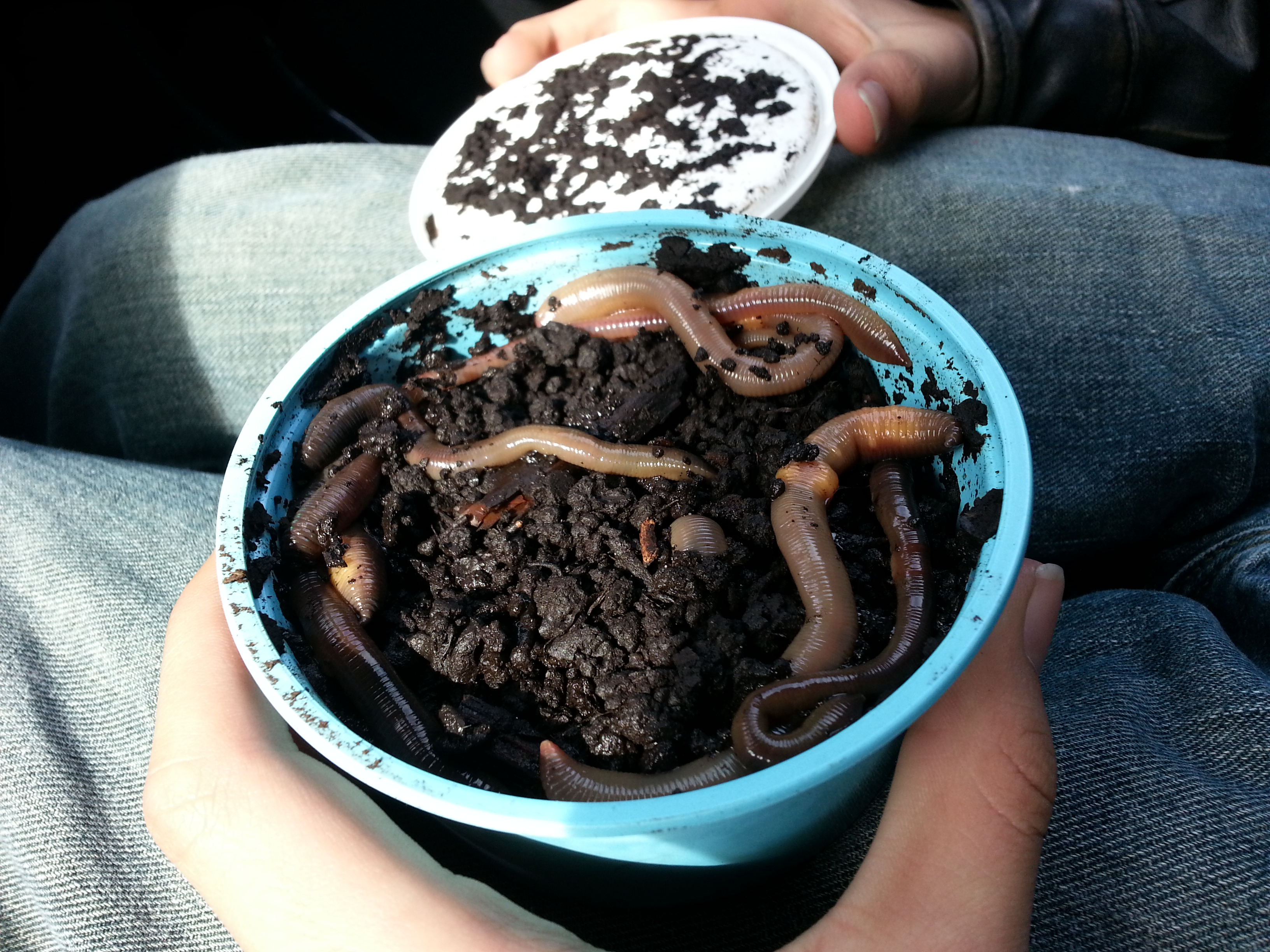 I would have been happy to skip the fishing thing altogether, but the kids had a blast so it was time well-spent. Logan taught Jacob how to bait the hook, and both kids caught a few fish in a very short amount of time. It was kind of crazy because the water was so clear – it seemed like we were cheating: spot a fish, drop the line, watch him take the bait (and hook). :-/
Anyway, kids had fun and both caught fish so that was good. Plus Logan handled all the baiting and de-fishing of the hook, so I really just sat back and took pictures.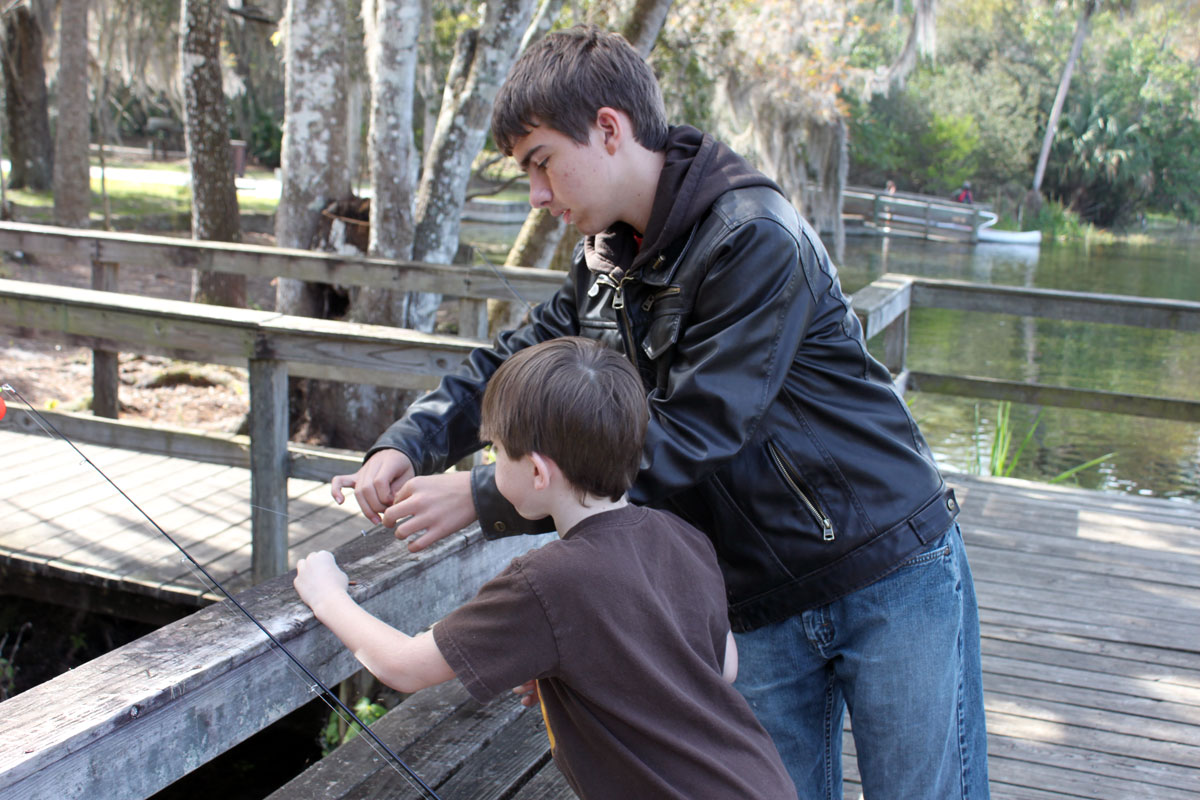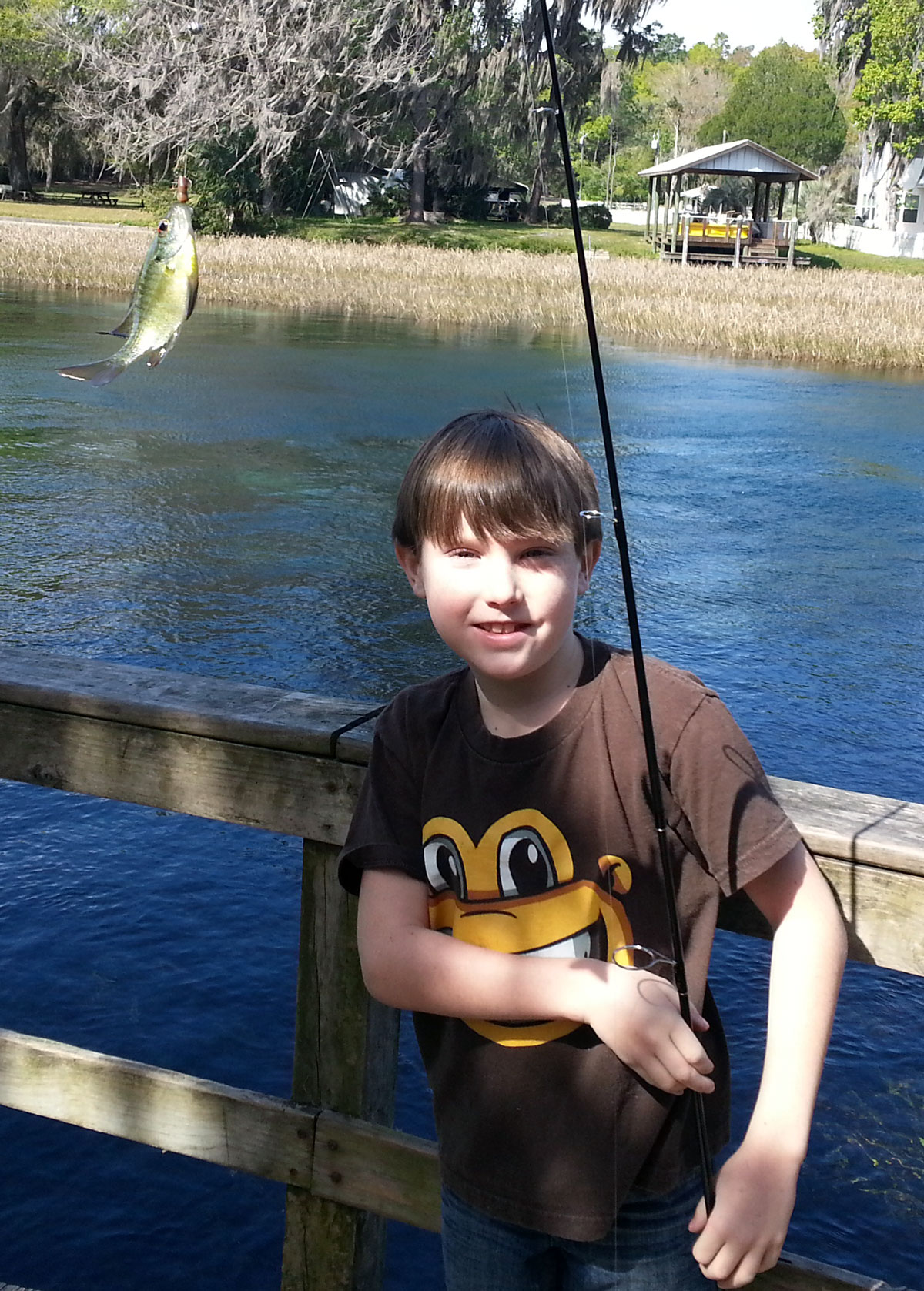 After fishing most of the morning, we enjoyed a nice hot pull-pork sandwich lunch at the campsite.
Next stop: kayaking!
We brought all 3 boats on this trip because I was pretty certain Jacob could paddle on his own.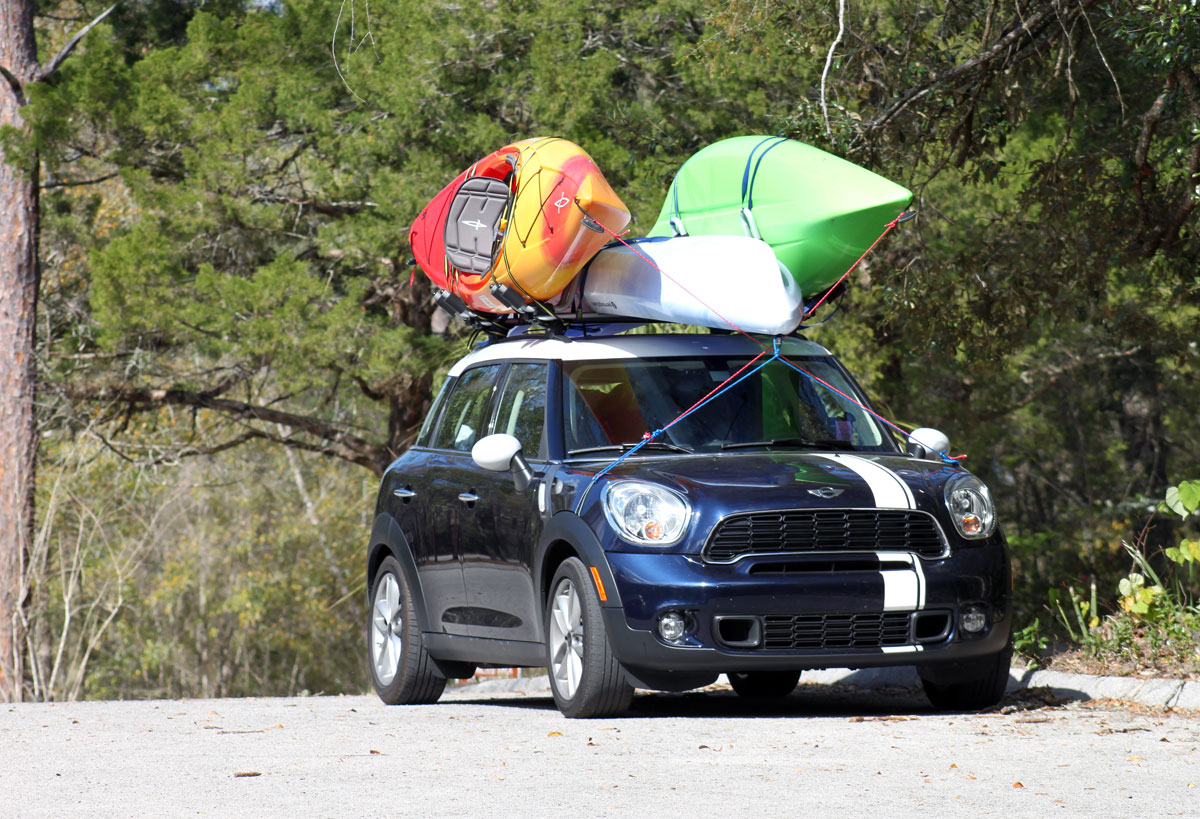 When I called the campground earlier this week they said we could launch the boats right from the campground property… turns out it was actually quite a haul from the parking area to the boat ramp. I read somewhere on the web that it was 1800 feet (6 football fields) and I would say that's pretty accurate. By the time we got into the kayaks we were exhausted. Advice to anyone considering camping and kayaking: rent the kayaks on site because they're located just a few feet from the water.
One thing we learned is that crickets apparently LOVE green kayaks! These cuties held on all the way to the spring, and one held on for the ride back, too!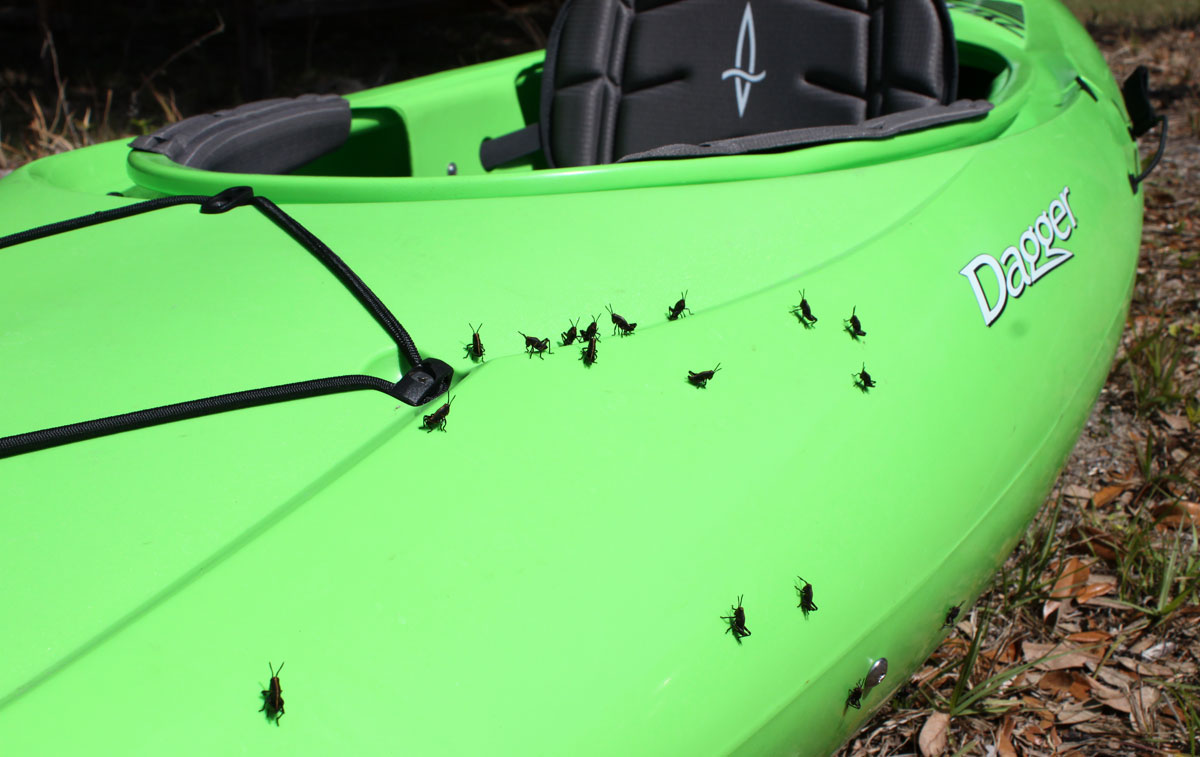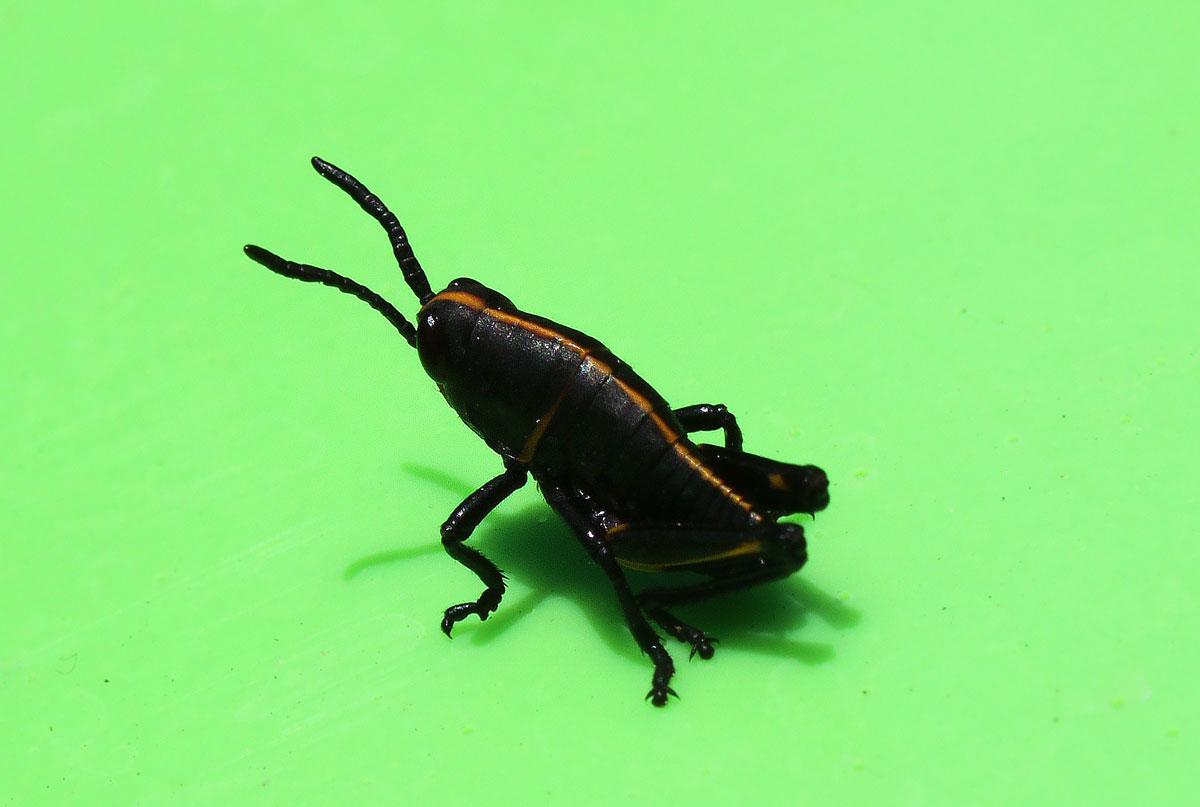 The weather was absolutely perfect – hard to believe I was comfortable in a bikini when I was dying of hypothermia just a few hours prior! The boys did fine with paddling against the 1.5mph current… for about 10 minutes. That's when Jacob's arms got tired. When he stopped paddling he'd float backwards down the river, so Logan tied Jacob's boat to mine and I towed him upstream for the remaining mile and a half or so of river. NOT. FUN.
Advice to anyone thinking their 8yo can kayak upstream for any length of time – he can't. Just let him ride in your boat, it will save you from major arm fatigue.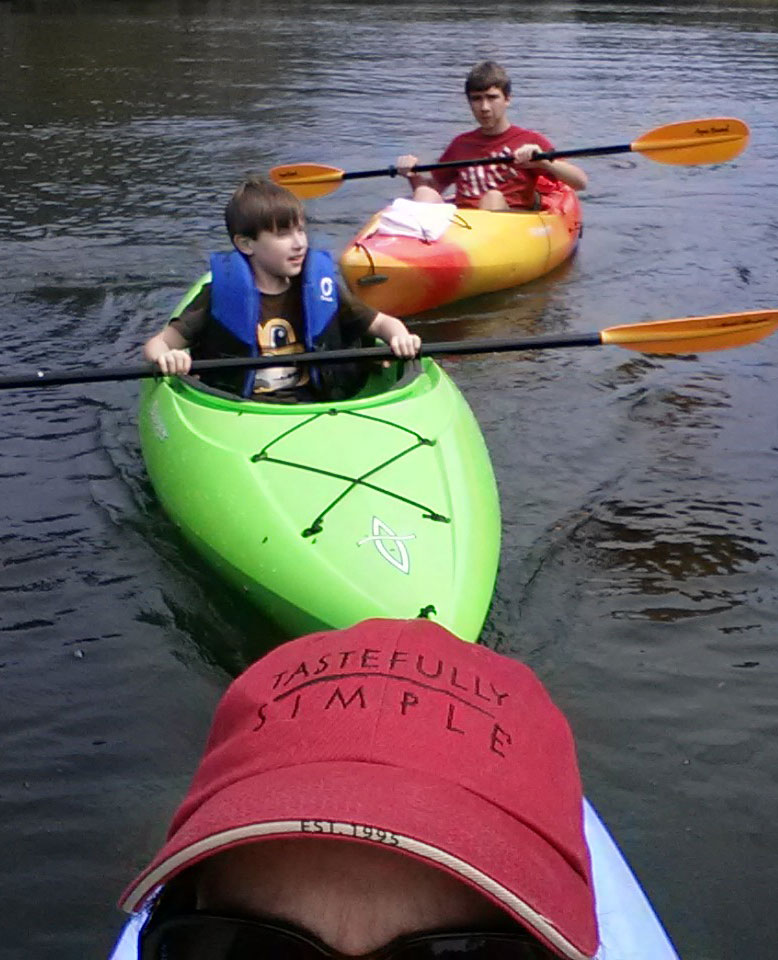 Once we got to the headspring we parked our boats and went for a swim. The water was very cold, but apparently no one in the state of Florida makes child-sized wet suits, so we just toughed it out. Well… Logan and I did, anyway. Jacob (surprisingly) couldn't get in! We took some photos with our underwater camera while we were there. We're using a Nikon Coolpix S30 – the cheapest underwater camera on the market – and it was SUCH a great investment. Super fun!
After our dip in the icy cold spring, we dried off and set out for a short hike to check out the waterfalls.
Here's a look back at the head spring (where we swam) from the waterfall hiking trail: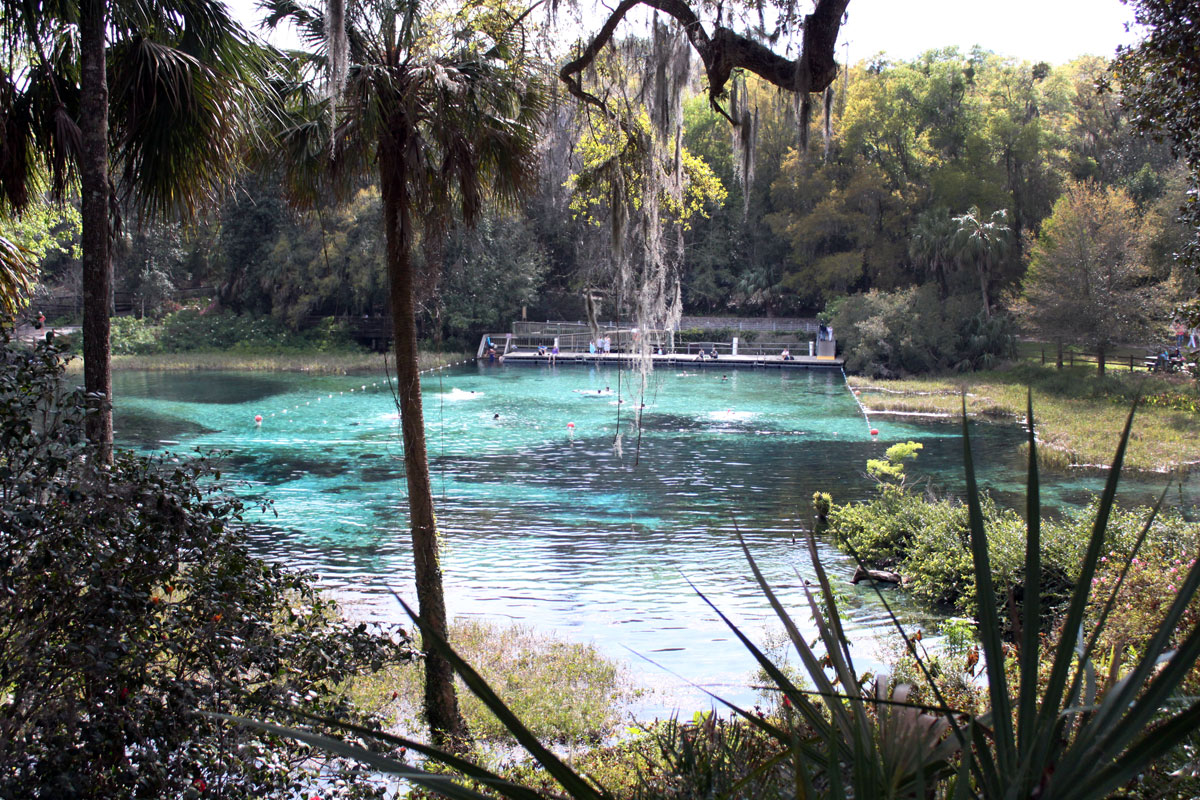 After our hike we climbed back into our kayaks and headed back down the river to our campground. Jacob was able to paddle/float back down the river without being tied onto my kayak, despite a sometimes strong head wind.
Here's a short clip of underwater video we took on the way back (no audio):

Once we got back to the campground boat ramp we were completely exhausted… and yet we still had at least an hour of physical labor ahead of us to get the boats to the car and the car to the campsite. Needless to say, we were all pretty worn out by the time we arrived at our tent.
There was plenty of food left to cook, but who wants to cook when you can barely lift your arms, right? So… we ordered pizza! (OH YES WE DID!)
There is pretty much zero privacy at this campground, and as the pizza delivery man slowly made his way around the camping loop (looking for our site, in the back of the loop), I could see campers stopping what they were doing to see who ordered pizza delivery. The people across the road from us were some of the gawkers, and when the deliver car stopped at our site they laughed and said "OMG! It was YOU who ordered the pizza!!" followed by lots of laughing from several campsites. I held my hands up high and said "Don't judge!! We've had a very long day!!". I also happened to know our across-the-road neighbors were cooking mullet for the first time and expressed some concern about it being an oily fish (they weren't sure how to cook it)… so I quickly fired back at them, "Hey, if that mullet experiment doesn't work out, you guys are welcome to stop by our site for some delicious pizza". We all had a good laugh, and the boys and I enjoyed the most delicious pizza we've ever tasted. 🙂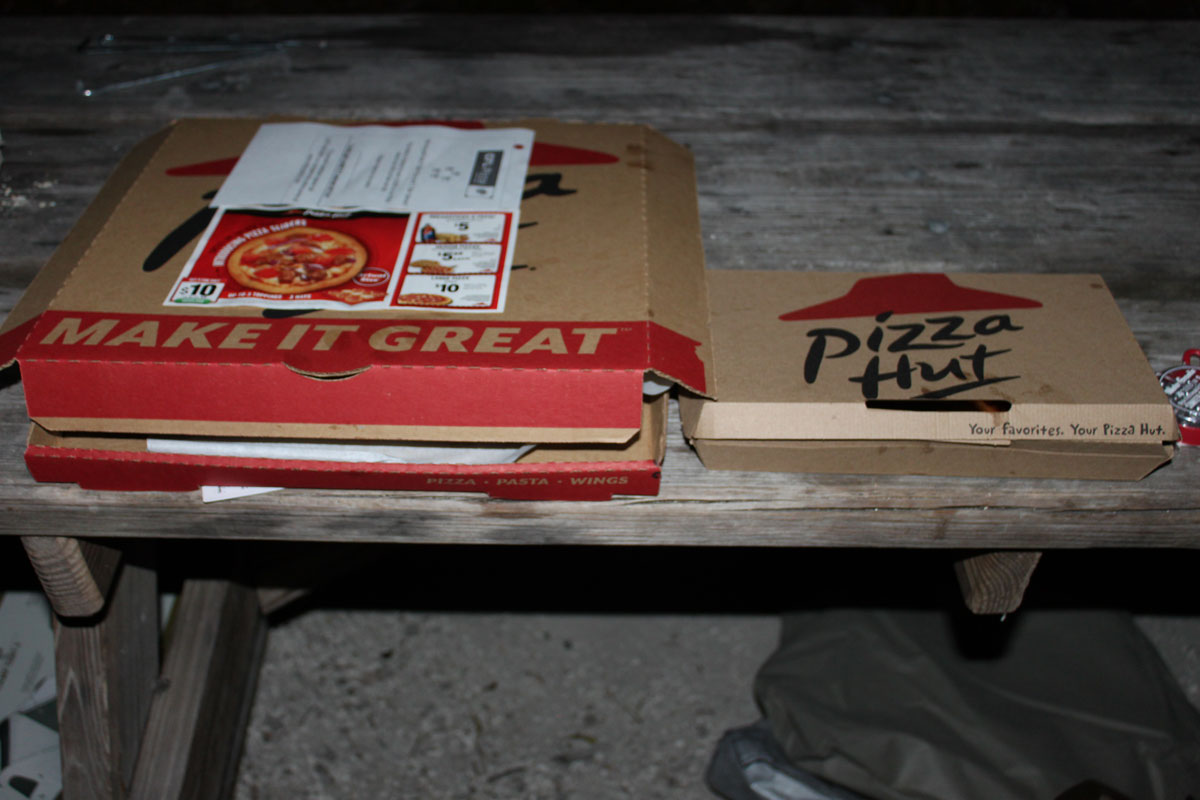 Once we were settled into our post-pizza coma, we resigned to the tent for the evening and finished off our exhausting day with a fun game of Apples to Apples.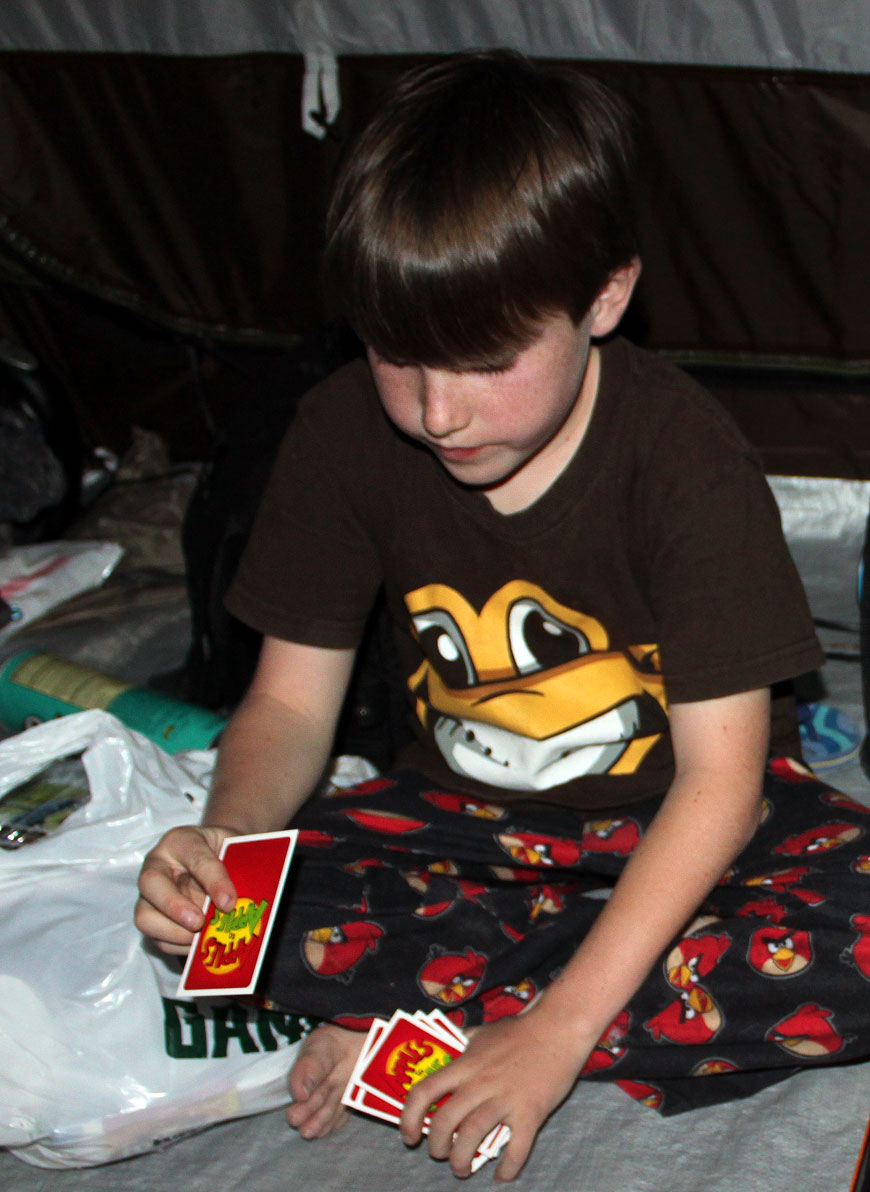 The next day we again woke up bright and early (it's hard to sleep past sunrise in the woods!) and sadly loaded up our camping gear so we could check out. Once everything was in the car we drove to the Rainbow Springs State Park for a 2-hour hike through the woods. We saw tons of birds and butterflies, along with a few other critters.
The boys were getting tired so for about the last mile of the hike I promised them a nice cold ice cream when we got back to the main building. You should have seen the disappointment in their faces when the snack bar was closed: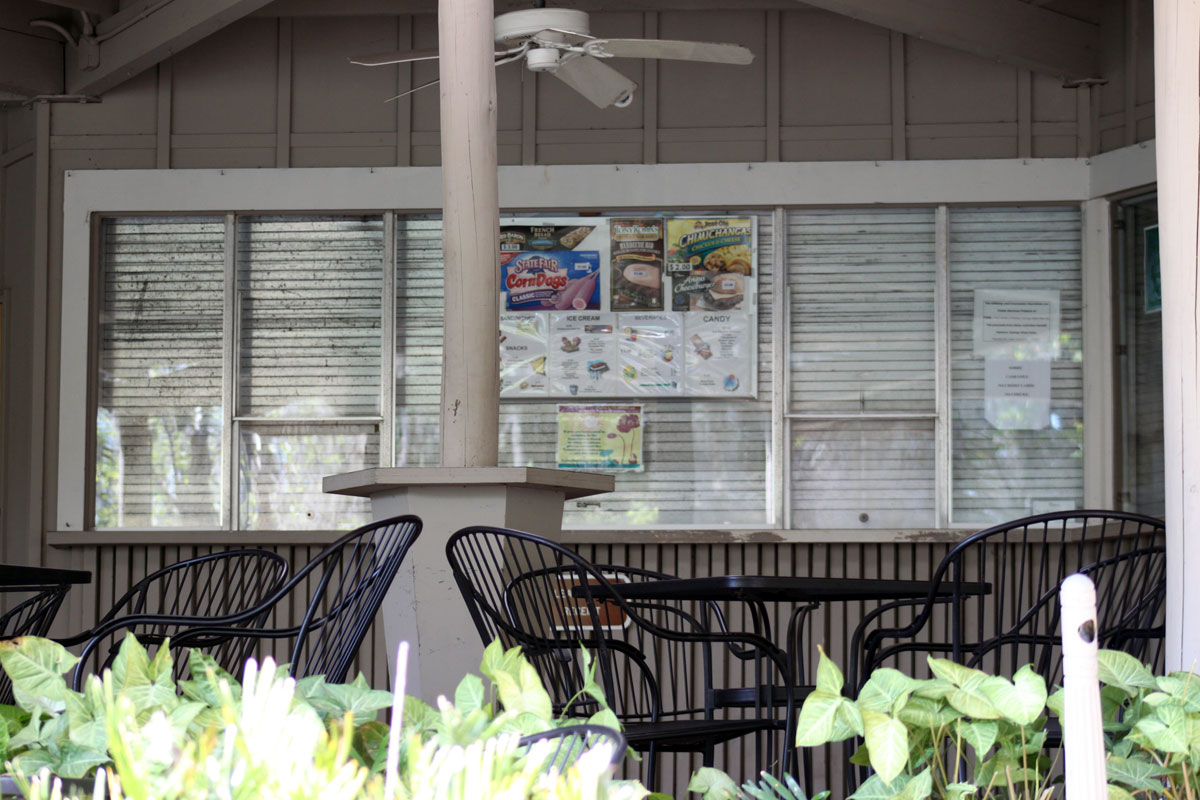 We stopped at the first gas station outside of the park, filled up our tank and each got an ice cream treat. Jacob slept the entire way home while Logan and I talked about inventing a snap-in system for mounting kayaks (or other recreational toys) to the roof of the car.
We had a fun and action-packed weekend at Rainbow Springs with tons of adventure and some much-needed family bonding time. Jacob and I gave it an 8 out of 10 on the fun scale, Logan gave it a 7 (he's harder to please). 🙂
Check out my flickr set for black-and-whites of my favorite photos from the trip.